Off Leash 2.0
Politicians who hate homeless people, conservatorship, CPAC: Pisces szn is here.
Yesterday was the first day of CPAC and it wasn't even the cr*ziest event of the day as far as the Internet went. Some highlights include lots of handwringing over Congresswoman Alexandria Ocasio-Cortez (AOC), a joint Jacob Wohl-Laura Loomer press conference, and the world's most pathetic cocktail menu. Today (Mar. 1) the VP Mike Pence and Candace Owens will speak.
Now for something, completely different:
I published in print for the first time! I ran an article in SF Weekly on the union-busting efforts by Anchor Brewing Co. and SF Veterinarian Specialists to prevent their workers from being paid a living wage, benefits, and other quality-of-life factors.
State of the Golden State:
Meanwhile, my great state of California has flooded in some places after torrential downpour, while just a few months ago it burnt my grandparents' town to a crisp. Guerneville is a cute town on the Russian River in Sonoma County, about 90 minutes north of San Francisco. It's also been a historic LGBTQ+ vacation spot. Right now, though, it looks like this: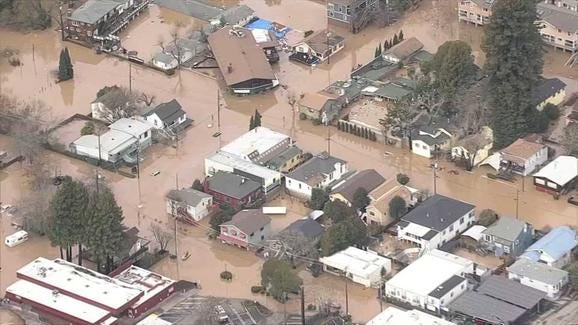 This just goes to show that the brunt of climate change's effects won't be felt by major metropolitan cities, where there's a concentration of wealth, but rather in small towns like this where there's fewer resources and less likelihood to command much media attention. Thankfully, the SF Chronicle is on it.
Baghdad-By-The-Bay
San Francisco government continues to amaze me with its cruelty, especially after yesterday's Public Safety meeting. While they "officially" have no such policy, it is standard for the Department of Public Works and SFPD to 'sweep' homeless people and confiscate tents, even during inclement weather. You can thank Proposition Q - which banned tents from public sidewalks - for that. The freakin' UN denounced it as a human rights violation. During such sweeps, homeless people usually lose important personal effects such as ID documents, medications, pets, sleeping bags, tents, among other things, and have little hope of recovering them anytime soon due to the slow nature of SF bureaucracy. Meanwhile, we have a waiting list for shelter beds a mile long and a homeless population of 8000 strong, while The City can "only" afford to lay out 75 extra mats during rough weather. You know who also used to sleep on a mat? Me, during naptime when I was in preschool. In the richest city in the richest country on earth, we can do better.
Video evidence of street sweeps, despite SFPD saying they don't do sweeps.
Several Supervisors went on record yesterday denouncing sweeps after the tireless efforts of activists and groups like the Coalition on Homelessness. However, my own District Supervisor, Rafael Mandelman, quibbled and eventually admitted to encouraging sweeping because he wants to minimize any discomfort the poor people of Fitness SF may have if they see a homeless person on the street.
It was not a great week all around for California politics either. US Senator Dianne Feinstein was caught on video condescending to some children (like, probably under the age of 12, children) who came to her office begging her to prioritize climate change to which she essentially responded, "I don't care what you think because I'm old and you're young and I've been doing this forever and I'm old enough to not have to bear the brunt of climate disasters so I'll be good and gone by then."
Meanwhile, State Senator Scott Wiener continues to push for conservatorship, which would render mentally ill people incapable of making their own decision re: their medical treatment and appoint them a guardian. Sup. Mandelman strikes again - he's trying to implement the same thing for San Francisco, after Wiener's SB 1045 was approved last year.
Note: The ACLU calls this "the most extreme deprivation of civil liberties aside from the death penalty." As someone who's been admitted to a hospital for a bogus mental health charge and had to watch friends suffer brutal police treatment as they were admitted on 5150 holds, I really, really, really hope this doesn't go through and cooler (and just-er) heads prevail.
"Politics is hypocrisy" -my uncle last week
Lastly: public figures continue to amaze me every time with how much they speak with authority on issues they know nothing about. Kamala Harris claimed to support decriminalization of consensual sex work, but essentially just wants to drop charging sex workers and go after their pimps and clients, which is not decriminalization.
Elsewhere, Bob Kraft (the owner of the Patriots) was busted for soliciting prostitution in a Florida massage parlor, and everybody has been losing their minds about trafficking. Somehow, it's OK when the POTUS does it at Mar-A-Lago, but I digress.
Stuff I read this week and liked:
This profile of the "Kayak Killer," an Eastern European woman who let her husband drown in the Hudson River. This happened not that far away from where I went to school and it was bizarre to see play out in real time.
CJR's story about how Hearst execs killed the expose on Bryan Singer that landed at The Atlantic. No one knows why, least of all the writers, who are Esquire staffers and not freelancers they could just ignore.
Because there's always something going on in CA or SF, I'm sure there'll be enough for Off Leash 3.0 next Friday. Ciao.